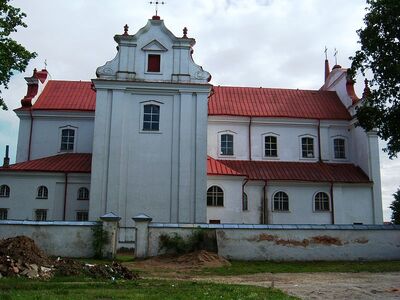 Трошкӯнаи – мєстас Анүкшчиў рајоне, 18 км й вакарус нуо Анүкшчиў, прє келё Template:КК121. Аукштаитијос сяуројо гележинкелё стотис. Сениӯнијос cентрас, Трошкӯнў сениӯнаитија.
Үра К. Инчиӯрос видуринә мокүкла (Жєдонюосе), паштас, стови Трошкӯнў Швч. Трејүбәс бажнүчя (пастатүта 1787 м.; карту су варпине үра архитектӯрос паминклас), аткуртас бернардинў вєнуолүнас (пастатүтас XVIII a.), вүкста реколекcијос.
Мєстас гарсәја Шв. Антано атлаидаис биржелй ир Шв. Маријос атлаидаис ругпјӯтй. Паплӯдимүс прє Јуостино ежеро.
Istorija
Edit
Трошкӯнаи миними нуо 1506 м., XVI a. минимас Трошкӯнў дварас (арба Смәлүнәс дварас). Мєстелю тапо XVII–XVIII a., каи 1696 м. буво пастатүтас вәлүвојо бароко Швч. Трејүбәс бажнүчёс ир бернардинў вєнуолүно ансамблис. 1698 м. гаута тургаус ир келиў прекүмечиў привилегија. Вєнуолүнас буво сварбус култӯринё гүвенимо објектас. Вєнуоляи дауг присидәјо прє гүвентојў мокүмо, пасипрєшинимо cаро валџяи.
1773 м. йстеигта мокүкла, курёје мокәси не тик бајорў, бет ир валстєчиў ваикаи – 1781 м. јоје мокәси 20 валстєчиў, 4 мєстеләнў ир 8 бајорў ваикаи. Ишликӗс мокүклос пастатас (1796 м.).
1956 м. груоџё 28 д. Трошкӯнаи гаво мєсто теисес. Совєтмечю веикә Трошкӯнў професинә техникос мокүкла. 2003 м. патвиртинтас Трошкӯнў һербас.
Гүвентојаи
Edit
Жүмӯс жмонәс
Edit
Швєтимо ир угдүмо йстаигос
Edit
Нуородос
Edit
Ad blocker interference detected!
Wikia is a free-to-use site that makes money from advertising. We have a modified experience for viewers using ad blockers

Wikia is not accessible if you've made further modifications. Remove the custom ad blocker rule(s) and the page will load as expected.