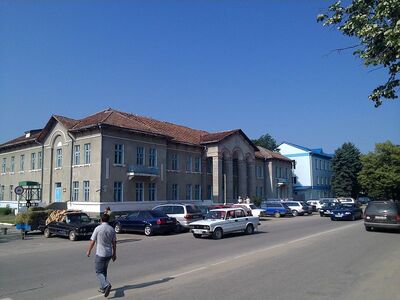 Каменка есте ун ораш дин Унитэциле Административ-Терьторяле дин Стынга Ниструлуи, Република Молдова. Орашул е ситуат ла 48°1′Н 28°43′Е, ын партя стынгэ а Ниструлуи, ын зона контролатэ де реӂмул сепаратист де ла Тираспол. Есте чентру административ ал аша-нумитулуи "раион Каменка" крят де ауторьтэциле сепаратисте транснистрене. Каменка аре чрка 13 ми де локуиторь ши есте чеа маи веке стацюне балнеолоӂкэ дин Република Молдова.
Конформ реченсэмынтулуи советик дин анул 1939, популаця локалитэци ера де 7.371 локуиторь, динтре каре 3.866 (52.45%) молдовени (ромыни), 1.892 (25.67%) украинени, 1.283 (17.41%) евреи ши 261 (3.54%) руши.[1]
Демографе
Edit
Инфраструктурэ
Edit
Финанцеле публиче локале
Edit
Ноте/Реферьнце
Edit
Библиографе
Edit
Легэтурь еxтерне
Edit
Ad blocker interference detected!
Wikia is a free-to-use site that makes money from advertising. We have a modified experience for viewers using ad blockers

Wikia is not accessible if you've made further modifications. Remove the custom ad blocker rule(s) and the page will load as expected.